WIW Instruments and Musician Biographies
Margaret is holding a bass viola da gamba, notice the six strings and frets. Also notice that this instrument is played with an"underhand" bow hold that is different from the bow hold on a violin. "Da Gamba" is Italian for leg. The viola da gamba (or viol) comes in two smaller sizes, the tenor and the treble, these are also rested on the calves of the legs. The viol is related to the lute/guitar families, and is tuned in fourths like a guitar, except for one pair of strings which are a third apart. From the lowest string up they are D - G - C - E - A - D - the instrument has a four octave range.
For more information on the Viola da Gamba, go to
http://www.vdgsa.org/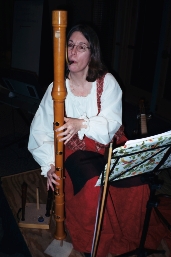 JENELLE ALLEN: A former clarinetist, Jenelle has enjoyed playing the recorder since childhood. She has been active in local early music ensembles for a number of years, and has performed as a soloist in churches throughout the Miami Valley. She also enjoys playing the crumhorn and viola da gamba. Jeni graduated from Wright State University in December 2014 with a B.A. in Literature, (Summa cum Laude)
In this picture Jeni is playing the great bass recorder which uses the same fingering as soprano and tenor recorders (with C as the lowest note) - the sopranino, alto and bass recorders all have F as the lowest note.
For more information of recorders go to http://www.americanrecorder.org/
.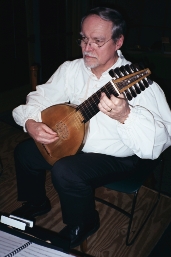 LAWRENCE (SKIP) PITZER Recorder, lute, guitar, crumhorn, viola da gamba. Skip received a B.F.A from Miami University (Ohio). He started the Guitar Department at Wright State University and currently is teaching guitar and lute at Cedarville University, Cedarville Oh. and Wittenberg University in Springfield Ohio. At Wittenberg Skip has been the instrumental director of the early music ensemble "Kalliope." Skip has studied and played the lute since 1975, and performs extensively throughout Ohio as a solo classical guitarist.
Skip is seen here playing the lute - the lute is a plucked fretted instrument, the strings are in pairs (like a mandolin) with an extra single string - thirteen strings in all.
Interested in guitar or lute lessons - email Margaret at windinwood@sbcglogal.net, and she will forward your email to Skip.
For more information on the lute go to http://www.music.iastate.edu/antiqua/lute.htm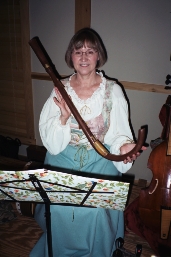 AMY VAUBEL voice, harpsichord, recorder, crumhorn, percussion: Amy holds a Bachelor of Music degree with concentrations in voice and choral conducting and a Masters in Music Education from Wright State University. Amy has directed choirs at WSU and at United Theological Seminary in Dayton. She is currently the Director of Music at Kirkmont Presbyterian Church in Beavercreek and is also the Manager of the Dayton Philharmonic Chorus. Amy teaches voice privately in her home studio in Beavercreek.
Amy is currently taking recorder lessons with Margaret Erin
For more information on crumhorns go to http://www.recorderhomepage.net/crumhorn.html
Amy, holding a bass crumhorn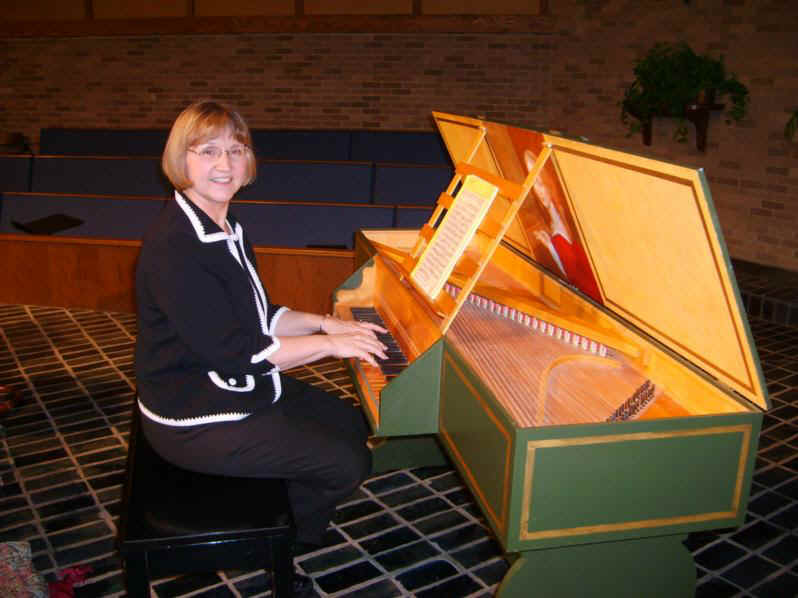 Amy playing Margaret's Italian Virginals - a sixteenth century version of the harpsichord. The strings run parallel to the keyboard rather than horizontally, as is the case with a harpsichord. The row of white ojects are called jacks - a small plastic plectra projects from each jack and plucks the string when a key is depressed.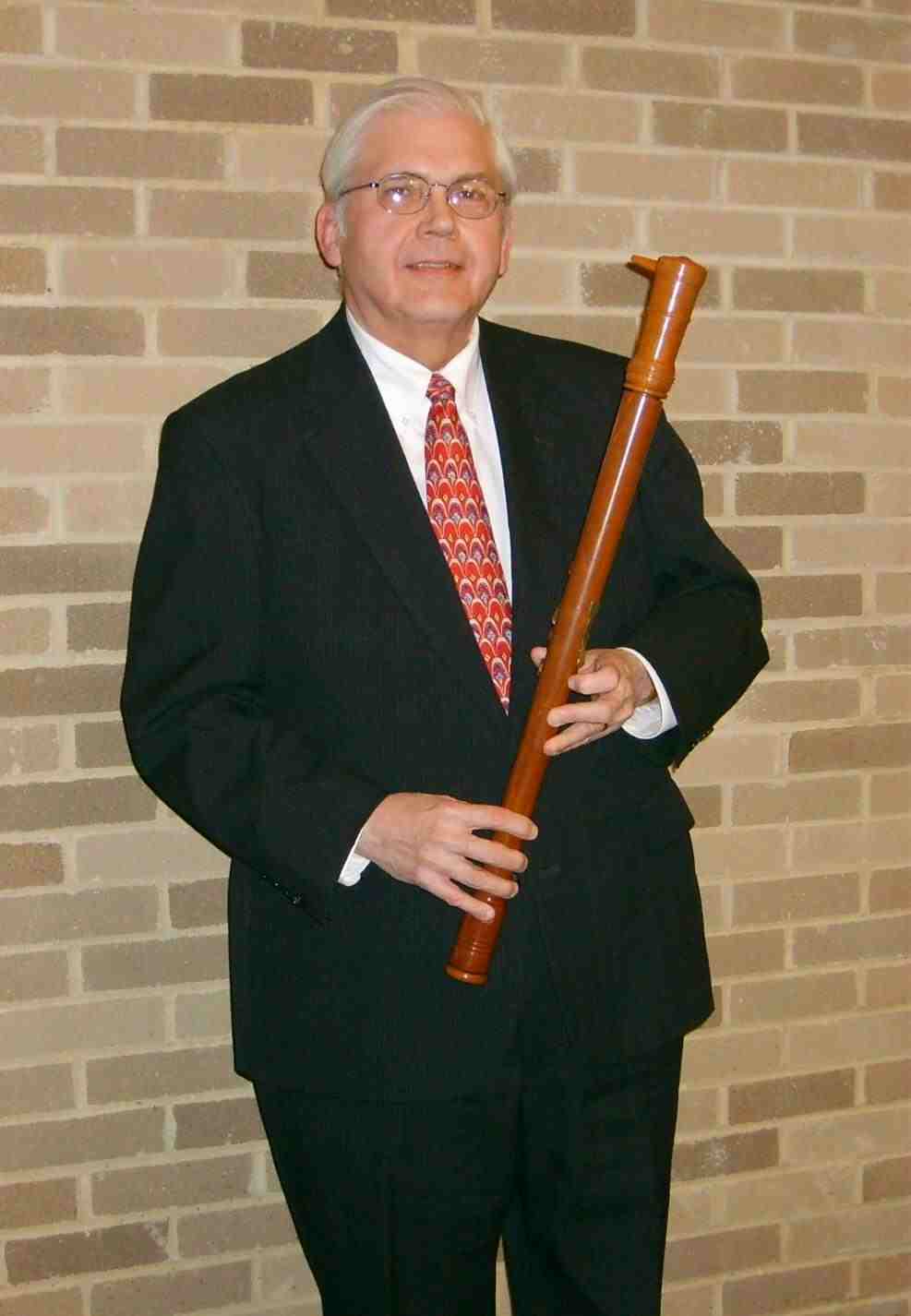 Michael Mattimore, recorders, crumhorns, kortholt, shawm
Michael received a B.M.in Theory & Composition from Wittenberg University and a Masters in Music Education from Wright State University. He began playing the recorder while in high school, and later studied with Shelly Gruskin and LaNou Davenport of the New York Pro Musica. He taught at the Early Music Center in Yellow Springs, was a founding member of the Early Music Group (later the Greene Consort) and is retired from teaching instrumental music in the Springfield City Schools. Michael has played basoon with several different orchestras. He has taught the recorder at Antioch University, the Springfield Community Schools Program and Chantry Music Press in Springfield. He has also organised several early music workshops at Wittenberg University
For information on the Kortholt, go to http://en.wikipedia.org/wiki/Kortholt
DAN DUNCAN started playing recorder as an undergraduate at Northwestern University and continued an interest in early instruments that led to a sabbatical leave spent at the Early Music Institute of Indiana University. He retired from Eastern Kentucky University after teaching woodwind instruments, theory and music literature and directing the early music program there. His woodwind experience covers all modern woodwinds and has expanded to include Baroque oboe and bassoon as well as curtal, harp, recorders, crumhorns and rackett.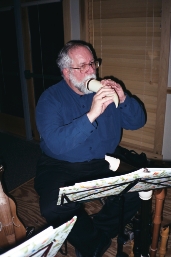 Dan playing Margaret's tenor gemshorn. The word "gems" means goat. This instrument, fingered like a recorder, has a hollow ethereal sound which blends really well with voice.
Dan holding a Rackett, this reed instrument has a suprisingly low sound because the bore folds back on itself several times. For more information on the Rackett go to http://www.music.iastate.edu/antiqua/rackett.htm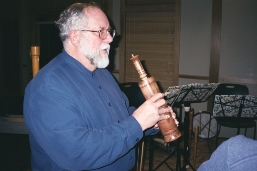 CHARLES LARKOWSKI has a PH.D. in Musicology. He is a retired professor of Music, he taught music history and music theory at both the undergraduate and graduate levels at Wright State University. Chuck was a founding member of the Early Music Group of Yellow Springs Oh. He plays viola da gamba, recorder, harpsichord, organ and sings, and is renowned as an actor throughout the Miami Valley area - Chuck performs with Wind in the Woods from time to time, as his busy schedule permits.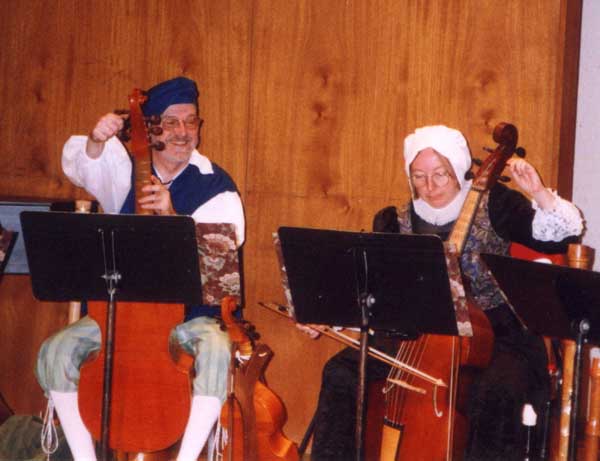 Charles Larkowski and Margaret Erin at Wright State University tuning bass violas da gamba
Margaret, Michael, Amy, Jenelle, Lawrence (Skip)
Sears Auditorium University of Dayton "Holiday Concert" Nov. 2006